Tips on choosing tools to help run your community, from group leaders.
Through group conversations and a
survey launched in October 2020
around group tools, we have developed tips and advice from the network. A common theme as you look at your tech stack is to "keep things simple and grow organically."
Hear directly from the Autodesk Group Network
"Keep it simple, and do not over complicate things" - Edmonton BIM Community (eBIMc) Leader
No tools are perfect, finding what will be good enough for your group is key. Adoption wins over features every time."
Ask yourself:

What tools is your audience already using? What tools do I like to use?

Don't get overwhelmed, and don't adopt more than you can manage.

There are a lot of different tools listed in this quick reference guide, for different use cases.

Pick a couple to get started, base your choices on your group's goals.

Grow and evolve over time, update and revise as you go and as needs arise.

Inevitably as time progresses, you will start using more and more tools. Also technologies will continue to evolve.

Unfortunately, some software will disappear, so make sure that your software choice is future-proof by choosing tools that are being invested in, ensuring interoperability, and by backing-up your data.

Take care to reduce the amount of "redundant" data that you have for your group.

If you are using Meetup to arrange meetings, try not to have multiple places that host the arrangements for the meeting. If the time or location changes, you will then have to know to change that data in multiple platforms.

If using Meetup for example, drive users to that Meetup to RSVP through your Twitter, Slack, or email campaigns.
Groups do pay for some tools and report getting good value in a survey we launched October 2020
(See full results here)
.
The tools that groups report paying for are: Zoom, Microsoft Teams, their website, MailChimp, Discord, Slack, and social network ads.

45% of the groups pay for some of the tools they use

Of those who pay, everyone either strongly agreed (78%) or agreed (27%) they were getting good value for their money.
Think about the purpose of the account; is it to share upcoming event information? Amplify your speakers and member activity? Be the sole website for your group?

How active do you plan to be on this account, and who will use it?

Do you need a hashtag for individuals to create posts that can be shared into a feed for the group?

It's also important to listen.

If you end-up engaging and managing conversations across multiple social media channels, an aggregation and dashboard tool might help (e.g. HootSuite).

How can you use social reach to tap into your members network, and expand your group through likes and shares?
If you're a local group

who wants to host regular meetings, maybe all you need is Meetup.com

(provided by the Autodesk Group Network).

If you want a bit more flexibility

, maybe you start with some Google Docs to plan among group leaders, create a public Google Site, and get a Twitter account.

Maybe you start with a single event

on EventBrite. (If you're not sure you are going to do regular meet-ups, you may not need Meet-up yet).

Maybe you just get early leaders and members to start engaging

on email, WhatsApp, Telegram, or Slack and see how things evolve from there.
​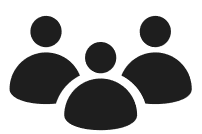 Connect with a peer mentor on hosting events
-
access codes listed here
for Autodesk Group Network members.
Become a peer mentor
​